A Facebook user identified as Destiny Chibuike has sent social media feminists into anger mode after sharing a post in which he claimed that a woman's beauty and academic qualifications is baseless if she is single and without a husband.
In his post, he stated that it is a 'waste'. His rather controversial post has sparked major reactions on social media. While some agreed with him, many others bashed him for limiting a woman to the partner of a man rather than a human who should exist on her own conditions.
Many have argued that it is statements like these that fuel gender inequality, in as such that women are seen as lesser beings only to be accepted fully into the society and validated as functional when they get married.
Destiny's post has clearly upset social media feminists who live to prove that women are worth more than just being wives.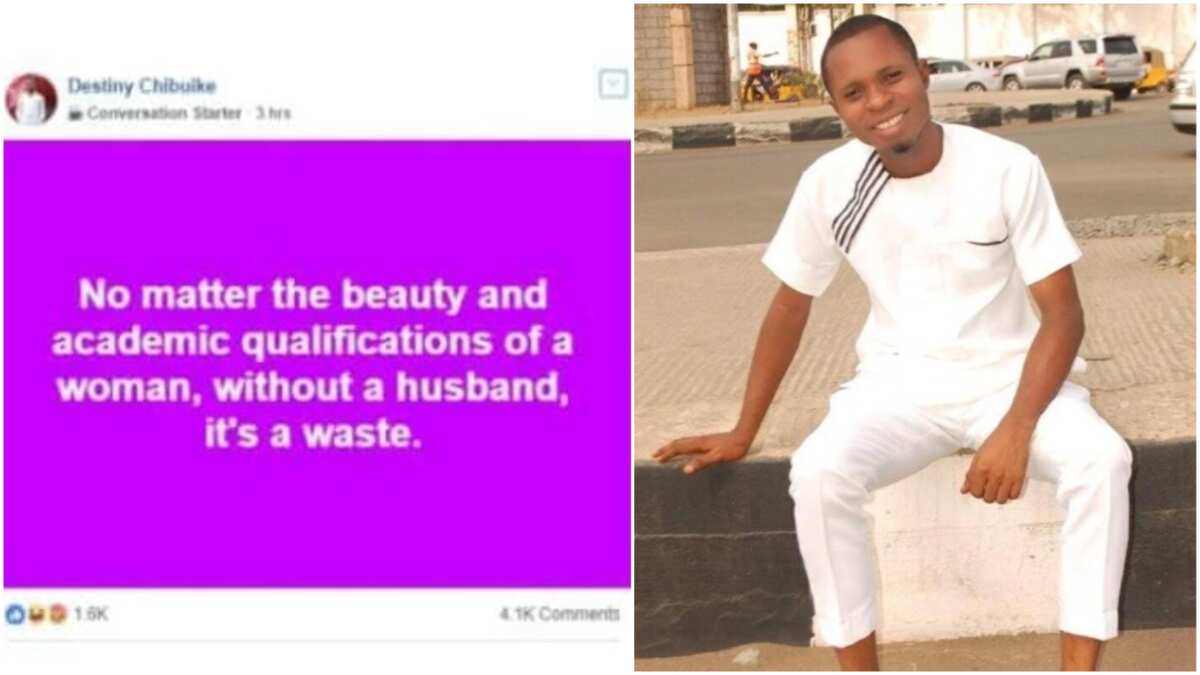 Interestingly, the young man appears to be a marriage advocate. In another post, he hammered that only a woman with good character are qualified for marriage and advised ladies who are beautiful to be of good character as that it is the only condition to settling down with a man.
Read his post below:
Some social media users reacted to his posts and most women were in direct opposition of his statement.
Here are some reactions below:
Loveth Ozor said: "My people , the poster is [right], just that he didn't use the correct word. No matter how successful a woman is without husband , that woman is incomplete but Truth is bitter sha."
Chibuoyim Cornel Obi wrote: "If you say there's no point in what he said come tomorrow and contest election in state or federal government and you will know the truth about this post."
"NONSENSE….marriage is a bonus and never a certificate of fulfilment! ask Genevive Nnaji." Precious Okonkwo wrote."
Meanwhile, the internet has been thrown into a puddle of laughter ever since a photo of an all female-congregation holding canes to reportedly 'flog their spiritual husbands' emerged online.
According to the Facebook user, Nwobi Zuby Kingsely, who shared the photo, the women actually wielded those canes to flog their spiritual husbands preventing them from getting married.