The Bat-eared Fox is the only canid to have largely abandoned mammalian prey in favour of insects.
Characterized by large dish like ears and grey-black markings, the bat-eared Fox lives mainly in the open grasslands and grassy deserts of Southern and Central Africa.
QUICK FACTS
Size
Body length: 50-60cm
Tail: 30-35cm
Stands: 35-40cm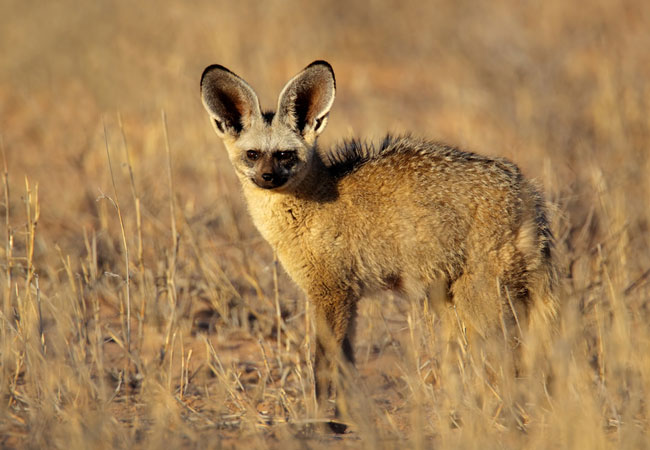 Weight
Weight: 3-4.5kg
Habitat
Open woodland, grassy plains.
Distribution
There are two primary populations; one in South Africa and the other in East Africa.
Diet – Insectivorous
Insects, particularly termites and grasshoppers.
A small precentage of their diet includes lizards, small birds, eggs, small mammals and fruit.
Socialisation
Nocturnal animals, Bat-eared foxes live in pairs and both partners rear the cubs. They are mostly monogamous and breed every year, giving birth to two or three pups.
Reproduction
After a gestation period of two months, the female gives birth to 2-3 young.
Gestation
Two months
Life Expectancy
12 years
Predators
Humans
Hyenas
Jackals
African Wild Dogs
Rock Pythons
Cheetahs
Large birds of prey
Many others