Merriam-Webster has named "they" its word of the year.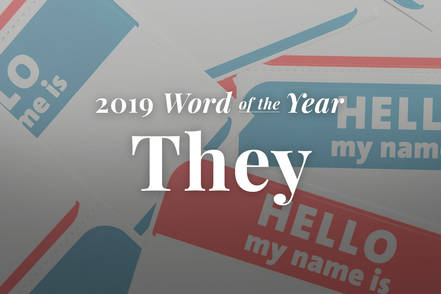 The US dictionary also recently added a new definition of "they", reflecting its use as a singular personal pronoun for non-binary people.
Searches for "they" on Merriam-Webster's website were 313 per cent higher this year than they were in 2018.
Singer Sam Smith came out as non-binary this year, and confirmed that their pronouns are they/themBritish pop star Sam Smith came out as non-binary in March, and in September he confirmed on Instagram that their pronouns were "they/them".
Announcing their pronouns, Smith wrote: "I understand there will be many mistakes and misgendering, but all I ask is you please please try. I hope you can see me (as) I see myself now."
A number of other high-profile non-binary figures were also in the news this year.
Another non-binary model, Ayesha Tan Jones, was also in the news in September – for staging a silent protest while walking a Gucci show in September.
Non-binary artists have gained prominence in the UK too.
Travis Alabanza's play Burgerz is based on a transphobic attack in which someone threw a burger at them, while Amrou al-Kadhi – aka Glamrou – released their memoir Unicorn, on life as a Muslim drag queen.
Last month, Collins dictionary also recognised the term "non-binary" as a description of people who do not identify as male or female.
Previous Merriam-Webster words of the year
2018: justice
2017: feminism
2016: surreal
2015: -ism
2014: culture