Langa Masina, popularly known as Steero, shot into the spotlight recently when award-winning rapper Khuli Chana posted a picture of himself with the young teenager, declaring him the future of South AficaA hip-hop.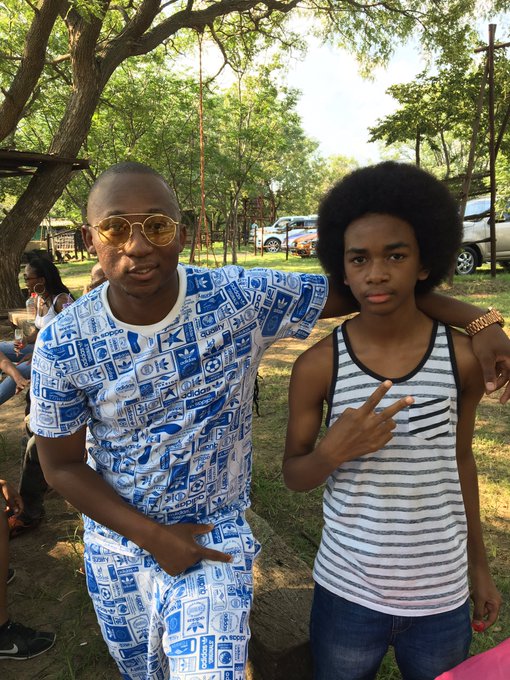 ONESOURCE

✔@KhuliChana

THE FUTURE OF SA HIP HOP IS IN GOOD HANDS @steeroHHH I believe in this kid!!!
But is he any good? Well, check out a snippet of a track he uploaded to social media last year.
We managed to track down the young rapper to see what the hype was about and found a humble boy "obsessed with the beat".
"Meeting Khuli Chana was amazing and to hear him say that to me was a feeling that I have never felt before. It meant a lot because of how much I look up to him. I really look forward to working with him in the future," Steero said.
Steero has met with several local and international artists in his short career, including America hit producer 9th Wonder, and has been featured on local TV music shows such as Soweto TV's Kasi Vibes on the Rise.
It's been a quick ascend for a rapper who started out making beats in his bedroom as a 9-year-old boy.
"I remember falling in love with hip-hop when I was in grade four. I was listening to hip-hop on a music channel and thought: 'I really like this'. So I made a beat and started writing my first verses and enjoyed it. I decided to do it more often and it quickly became a passion," Steero said.
Steero's father Ramesh Masina was one of the pioneers of SA hip hop and was an influence in his son's decision to make a career out of hip hop. "My entire family has hip-hop roots and so I guess it came naturally to me," the young rapper said.
At 13, Steero has a schedule that would make most adults flustered. Not only does he balance school with studio time but he is also planning to release a new single next month, a debut album later this year, and a clothing line soon after.
"I'm home schooled, which makes it easier to find balance, but I'm working on my album and my clothes line should go into mass production soon. So I predict big things for my future" Steero said.
The rapper has uploaded several videos introducing himself to fans on his social media pages.
Check those out below.