Today, February 20 is the birthday of South African comedian Trevor Noah! He turns 33.
Trevor Noah (born 20 February 1984) is a South African comedian, writer, producer, actor, media critic, and television host. Noah has hosted The Daily Show, a late-night television talk show on Comedy Central, since 28 September 2015.
Trevor Noah was born on 20 February 1984 in Johannesburg. His mother, Patricia Nombuyiselo Noah, is black and of Xhosa ethnicity and his father, Robert, is white and of Swiss German ethnicity. During his childhood, his mother converted to Judaism. Noah spent his early youth in the private school of Maryvale College, a Catholic school in Johannesburg. His parents' relationship was illegal at the time of his birth under apartheid (extraracial sexual relations and marriages were legalized under the amended Immorality Act of 1985, a year after Noah was born).
When he was 18 (in 2002), Noah had a starring role on the South African soap opera Isidingo. He then began hosting his own radio show Noah's Ark on Gauteng's leading youth radio station, YFM. Noah dropped his radio show and acting to focus on comedy, and has performed with South African comedians such as David Kau, Kagiso Lediga, Riaad Moosa, Darren Simpson, Marc Lottering, Barry Hilton and Nik Rabinowitz, international comedians such as Paul Rodriguez, Carl Barron, Dan Ilic and Paul Zerdin, and as the opening act for Gabriel Iglesias in November 2007 and Canadian comedian Russell Peters on his South African tour.
On 6 January 2012, Noah became the first South African stand-up comedian to appear on The Tonight Show; and, on 17 May 2013, he became the first to appear on Late Show with David Letterman. Noah was the subject of the 2012 documentary You Laugh But It's True.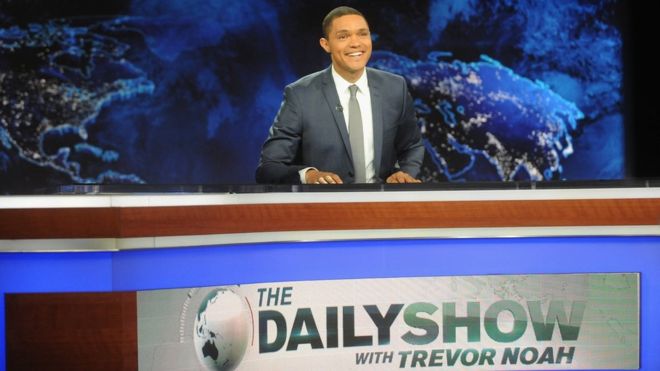 In December 2014, Noah became a recurring contributor on The Daily Show. In March 2015, Comedy Central announced that Noah would succeed Jon Stewart as host of The Daily Show; his tenure began on 28 September 2015.