Wearing winter-appropriate accessories when you go out into the cold is a must to stay warm and comfy. The parts of your body that usually remain bare are the ones you'll now want to protect against the cold.
Below you'll find what type of accessories you should go for, as well as some basic things to watch out for.
1. Hats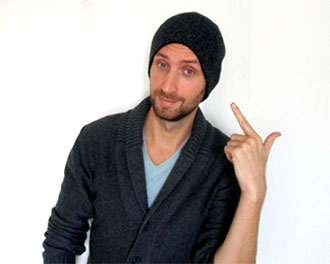 Protecting your head in harsh winter weather is a must, so invest in a winter hat that is stylish and save that battered baseball cap for mowing the lawn in the spring.
For casual wear, knit caps will be your go-to option. Besides protecting your head, they keep your ears warm too. You can't say the same of other hats.
Speaking of which, some style gurus would scoff at the suggestion of wearing a knit cap with formal wear, as a knit cap is less formal than a traditional hat. This is one of those rules you can break though. If your ears are freezing off, just go for it and cover those puppies up.
However, stay away from pom-poms, tassels and other "cute" embellishments. In some cases, these types of hats can work as a statement piece, but most of the time, they just make you look like a goofball. A regular knit-cap will convey a lot more maturity and masculinity.
Knit caps are certainly not your only choice though. Newsboy caps or trapper hats can be a good choice for casual wear, and a fedora or homburg can look exquisite with formal wear. Like I mentioned before though, these won't keep your ears warm.
Make sure to check the label when you buy one of these. Knit caps in lower-end stores tend to be made from acrylic. My personal experiences with this material have always been disappointing. They either make me sweat so much that my forehead starts itching or they let the cold winds pass straight through. You'll be better off paying a bit more for a quality wool cap that actually protects your ears from the cold.
2. Scarves
Most of the time when you're outside, you'll be wearing  a coat, which will probably have a fairly muted tone. So you select a scarf that stands out against your otherwise muted outfit.
Wearing a scarf that's brighter and more colorful than your coat will bring attention to your face (though be wary of stepping into neon-territory. You still shouldn't go overboard).
You can also go for one with an interesting pattern, like the one pictured.
But besides colors and patterns, you have even more ways to use a scarf to add a splash of visual pop to your outfit. These days you have a great selection of thick-knit scarves and infinity scarves — you know, those scarves you loop around your head instead of tying them. The textures in these scarves can look quite masculine and cool as well.
Those types of scarves work better for casual wear than for formal attire though. For formal wear, go for a simple wool scarf that's not to chunky.
Like knit caps, you'll often find these made from acrylic in stores. Don't fall for it. Check the label and make sure you have wool. Like mentioned earlier, even a thin wool can keep you warmer than most other fabrics.
3. Gloves
When it comes to gloves, you should abide by three rules:
1. They should withstand the cold
2. They shouldn't soak up moisture like a sponge
3. They shouldn't look like the mittens your mom clipped to your coat when you were six
Personally, I only go for leather gloves. They both protect your hands from wetness, wind and they look classy as hell. When you select leather gloves, go for a pair with lining to keep your hands extra warm.
You want to match your leather to your other leathers. So no brown gloves when you're wearing black belt and shoes, or vice versa. The leather doesn't have to match exactly — that usually looks too try-hard — but the closer they are, the better.
For formal wear, stick with leather and keep them sleek. But for casual looks, leather is not your only option; you could also go for wool gloves in funky colors. Just don't break out the chunky ski-gloves unless you're facing extreme cold.